Spending a few hours on the weekend surrounded by puppies isn't a bad way to spend a few hours. In fact, it's amazing. I never knew my current dogs as puppies, and haven't had a puppy in years and years. I didn't know how much I missed puppies until I was surrounded by 7 squirming, yipping, tumbling, tugging little furry babies. OH my gosh, I missed puppies!!



Two weeks ago, we spent some time with the pups in the kennel while mommy dog Tessa was put in the kennel next door. It's important for puppies to feel human touch, human affection, and to hear the human voice. These puppies were actually born in the shelter, so in order for them to get used to people, GADAB is working with them on a daily basis. We were lucky enough to get to spend some time with them, picking them up, petting them all over, touching their paws, and holding them. It was almost overwhelming--7 little pups climbing up on our laps, grabbing sleeves, pantlegs, shoelaces--and it was amazing.

This week, we were able to take the pups--Amos, Ernie, Bert, Bella, Roscoe, Gus, and Charlotte--out in the "puppy shuttle," a little cart in which 2-3 puppies can ride in at a time, in order to travel around parts of the shelter. Because they are too young to be put on the ground (to protect them from disease), this is a handy way to get the puppies used to things, noises, and people. It's a great way to study the personalities of the pups to find out who is shy, who is outgoing, and who is afraid of new things. That way, we can know who needs special attention and extra socialization. It's funny...in this litter, it's the black pups that are more shy. Is it because they might have different fathers, aka different DNA? (at least one is very Shar Pei and a few are so Rottie!) It's not clear, but it's very interesting to witness.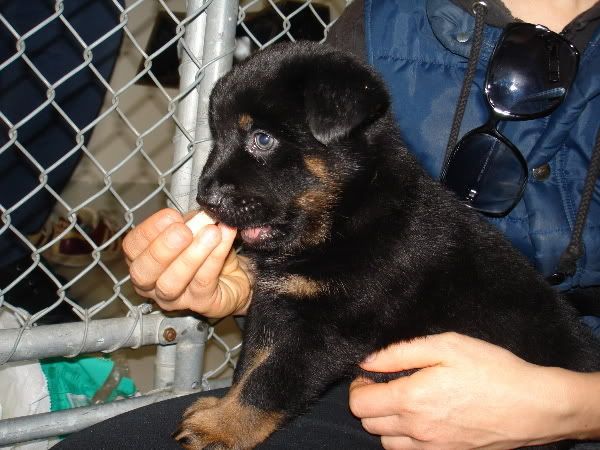 Three hours later, that felt like minutes, we had taken all of the pups out, named them, and got them back to their playpen safe and sound. I couldn't help to wonder about the future of these puppies. Would they all get good homes? Would they be treated well, even spoiled? Would I see a dog at the dogpark and wonder, was that the little black pup we named Amos?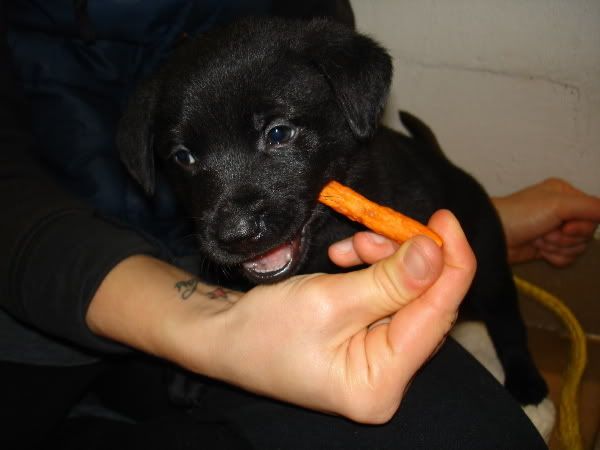 I also can't help but to think about the dogs we see at the shelter that are there because of unfortunate circumstances-- irresponsible owners, cruel owners, those who don't take their role as guardian seriously. Dogs who lost their way, lost their trust, lost their chance at a happy life filled with walks, treats, and a purpose. It breaks my heart every time a dog has to be put down, and I KNOW things could have been different. If only...if only...

So, my dear puppies, may all of you be lucky. Lucky 7, right? Little Amos and Charlotte, big Bella and Roscoe, the boys Bert and Ernie and fluffy brown Gus....I wish you years of sleeping on soft blankets, car trips to the beach, and a loving person who thinks that they are lucky too, to have such a great best friend. I hope to never see you back here at the shelter, and I mean that in a very good way.